Refine Your Results

A to Z Wineworks Chardonnay
A Chardonnay from Oregon.

A to Z Wineworks Pinot Gris
A Pinot Grigio from Oregon.

Abbazia di Novacella Kerner 2020
A Kerner from Alto Adige, Trentino-Alto Adige, Italy.

Achaia Clauss Retsina
A Savatiano from Achaia, Greece.
Light as air, this is all about the refreshing compliment to grilled seafood.

Aia Vecchia Vermentino
A Viognier from Tuscany, Italy.

Albert Mann Gewürztraminer 2019
A Gewurztraminer from Alsace, France.
Fresh and aromatic wine. The nose is pleasant. Dominance of exotic fruit, mango and passion fruit.

Albert Mann Pinot Auxerrois Blanc 2018
A Auxerrois Blanc from Alsace, France.
Wine with a pale yellow color and a frank and pure character. A nose of ripe fruits such as white pe…

Albert Mann Pinot Blanc 2018
A Auxerrois Blanc from Alsace, France.
This wine has a pale yellow color with a light green reflection. It presents a beautiful aromatic ex…

Allan Scott Sauvignon Blanc
A Sauvignon Blanc from Marlborough, New Zealand.

Alois Lageder Riff Pinot Grigio
A Pinot Grigio from Delle Venezie, Veneto, Italy.
A fantastic wine from northern Italy, the Veneto region produces some of the best Pinot Grigio out t…
Alphonse Mellot Sancerre Blanc 2020
A Sauvignon Blanc from Sancerre, Loire Valley, France.

Alsace Willm Reserve Pinot Gris 2019
A Pinot Gris from Alsace, France.
An intense golden color with hints of ocher, the wine has a nose of ripe fruit, quince. In the mouth…

Alsace Willm Riesling 2019
A Riesling from AOC Alsace, Alsace, France.
A limpid pale yellow with green hues, the nose presents notes of fresh fruit and citrus aromas. In t…

Ameztoi Getariako Txakolina
A Hondarrabi Zuri from Getariako Txakolina, Spain.
Bright briny sea salt combined with limey fruits. Fresh and eminently quaffable.

Andre-Michel Bregeon Muscadet de Sevre et Maine Sur Lie 2019
A Melon de Bourgogne from Muscadet de Sevre-et-Maine, Loire Valley, France.

Anne Amie Estate Dry Riesling 2015
A Riesling from Willamette Valley, Oregon.
Aromas of lemon drops, petrol, kumquat, ripe pineapple, white pepper and feijoa. Candied lemon peel…

Antinori Cervaro della Sala 2018
A Chardonnay from Umbria, Italy.
Reviews for this 2018 Cervaro della Sala...

Rated 96 points 'Extraordinary' by Robert Parker's Wine A…

Antonelli Montefalco Grechetto DOC 2020
A Grechetto from Montefalco, Umbria, Italy.
(Organic) A fresh, fantastic new vintage of one of our perpetual favorite white wines at Spirited…

Antonelli Trebium Trebbiano Spoletino Organic 2019
A Trebbiano from Montefalco, Umbria, Italy.
(Organic) Intense straw yellow tending to gold. Olfactory impact of great intensity and persistence…
Antoniolo Erbaluce di Caluso 2020
A Erbaluce from Caluso, Piedmont, Italy.

Aphros Loureiro do Lima Vinho Verde DOC 2020
A Loureira from Vinho Verde, Portugal.
"Aphros is one of the more interesting of the new wave of producers in Portugal. All of its farming…

Aslina Wines Chardonnay 2020
A Chardonnay from Coastal Region, South Africa.

Au Bon Climat Santa Barbara County Chardonnay 2019
A Chardonnay from Santa Barbara, Central Coast, California.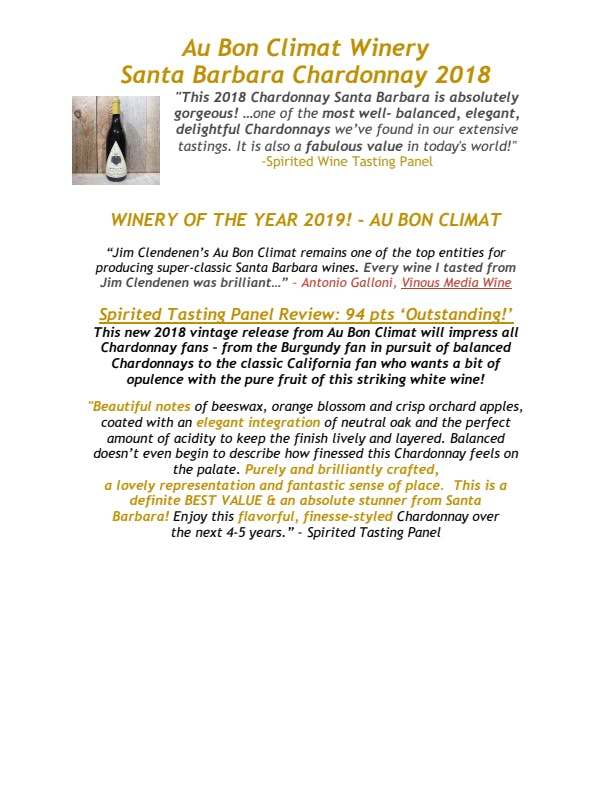 Avinyó Petillant Vi D'Agulla 2020
A Muscat Blanc from Catalonia, Spain.
Avinyó Petillant is a vi d'agulla, the Catalan term for a prickly wine bottled with a little natural…