Bright
Vivid, focused and flavorful young wines. They are fresh, ripe, zesty, and lively. Also used to describe the appearance in a glass.

Refine Your Results

Valdespino Fino Jerez Dry Inocente 375ml
A Palomino from Andalucia, Spain.
Pale straw color. Very delicate and sharp, with clear almonds notes and autolysis. Soft entry, round…

Orleans Borbon Manzanilla Fina 375ml
A Palomino from Spain.
TASTING NOTES: Straw in color with tangy aromas of the sea rounded out by fruity lemon curd, almond…

Bodega Gaintza Getariako - Txakolina Bianco 2018
A Hondarrabi Zuri from Getariako Txakolina, Spain.
Visual Phase: Straw yelow with lime green tones. Green reflexes and metalic huses. Nose Phase: Fresh…

Poderi Cellario E'Rosso 1L
A Barbera.

Gota Azahar Vinho Verde 2018
A Loureira from Vinho Verde, Portugal.
Beyond almonds and olives, the Moors also gave Portugal fragrant orange trees. Come Spring, these de…

Tablelands Sauvignon Blanc 2019
A Sauvignon Blanc from Awatere Valley, Marlborough, New Zealand.
The wine shows ripe flavors and aromas of white peach, lychee, cantaloupe, lime, and sweet grass. Th…

Poderi Cellario Langhe Favorita Bianco 2019
A Vermentino from Langhe, Piedmont, Italy.

Folias De Baco Uivo Rabigato Branco 2019
A Rabigato from Douro, Portugal.

Domaine Raimbault-Pineau Sancerre Blanc 2019
A Sauvignon Blanc from Sancerre, Loire Valley, France.
Great new find for us this year. We've been loving this Loire Valley beauty. From a tiny, family est…

Maso Grener Nosiola 2018
A wine.

Loacker Raetinello Vernatsch 2018
A Schiava Gentile from Trentino-Alto Adige, Italy.
A light body. This wine pairs beautifully with simple dishes.

Nicosia Vulka Etna Rosso 2016
A Nerello Mascalese from Etna, Sicily, Italy.
Brilliant ruby red. A rich aromatic profile with floral hints and notes of red berries and spices. G…

Gunderloch Jean Baptiste Riesling Kabinett 2018
A Riesling from Rheinhessen, Germany.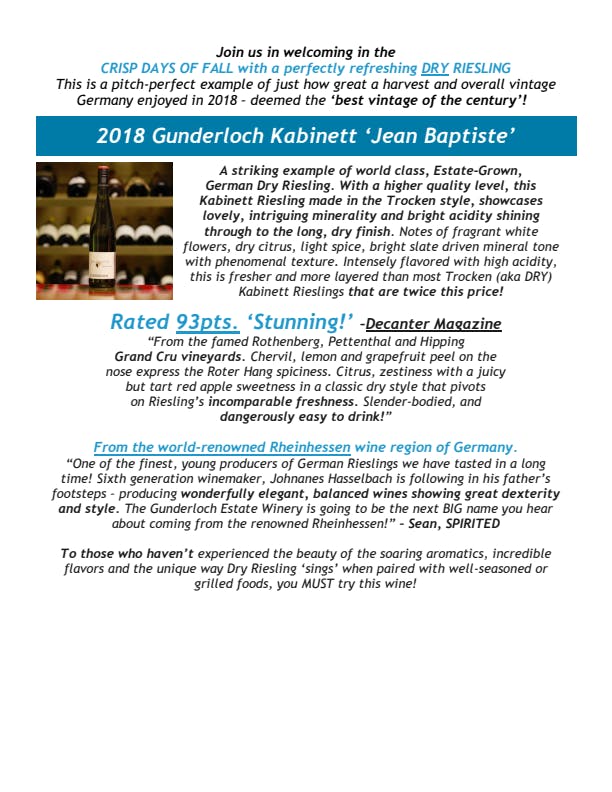 Cave Saint Cyr La Galoche Beaujolais Rouge 2019
A Gamay from Beaujolais, France.

Cerbaiona Rosso di Montalcino 2017
A Sangiovese from Rosso di Montalcino, Tuscany, Italy.

Burlotto Aves Barbera d'Alba 2019
A Barbera from Barbera d'Alba, Piedmont, Italy.
Deep cherry red. Aroma of ripe cherries and toasted oak. A highly-concentrated full-flavored wine, w…

Rocche Costamagna Barolo 2016
A Nebbiolo from Barolo, Piedmont, Italy.
Excellent with roasted red meat, game, braised veal. It matches perfectly with truffle-based dishes…

Rocche Costamagna Arneis Langhe Bianco DOC 2019
A Arneis from Langhe, Piedmont, Italy.
This lovely, lightly perfumed white has a surprisingly round mouthfeel, yielding delicious flavors o…

Darting Pinot Meunier 2017
A Pinot Meunier from Pfalz, Germany.
Darting's Pinot Meunier features ripe cherry and raspberry flavors yet with a backbone of acidity an…

Folias De Baco Uivo Renegado Vinhas Velhas 2019
A wine from Spain.

Poderi Colla Nebbiolo d'Alba 2018
A Nebbiolo from Nebbiolo d'Alba, Piedmont, Italy.
Garnet red. Complex nose with aromas of plum, spices, red berries, dried rose and violet. In the mou…

Day Wines Vin De Days L'Orange 2020
A Riesling from Willamette Valley, Oregon.
With the success of our Tears of Vulcan skin-contact white blend, we knew we were on to something. T…

Southern Right Sauvignon Blanc 2020
A Sauvignon Blanc from Walker Bay, South Africa.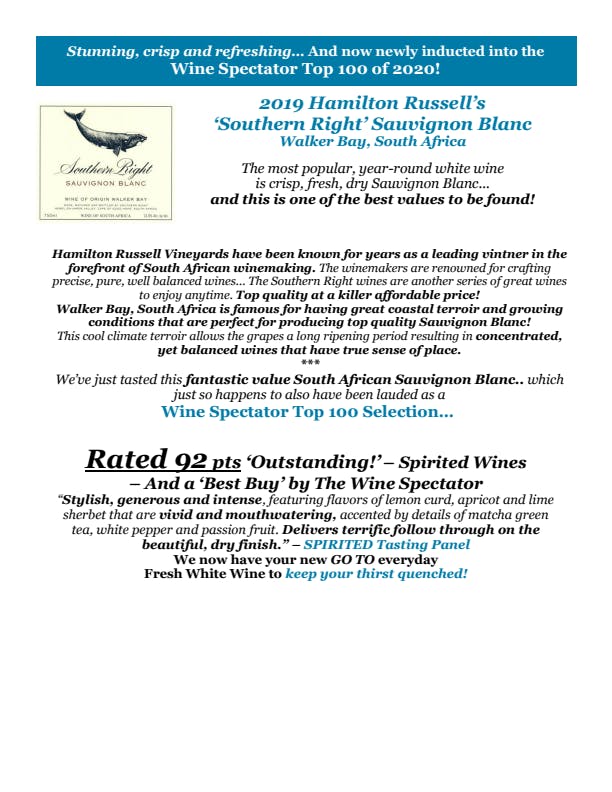 Domaine Pascal Granger Juliénas Cuvée Speciale 2017
A Gamay from Juliénas, Beaujolais, France.
Deep color with ruby ​​reflections, its powerful nose is loaded with scents of violet or freesia. In…

Fabien Jouves Haute Cot(e) de Fruit Malbec 2019
A Malbec from Cahors, South-West, France.